Window curtains do not only have practical purposes but can also enhance the overall appearance of your living space by adding elegance. Most people do not know how to select window treatments that can elevate the look of their interior.
Well, you can amazingly enhance the entire interior design of your space by hanging the ideal window curtains. With that being said, here is a beginner's guide in which you will learn the art of window curtain selection. This guide will help you out in making an ideal choice so that you can lift up the entire tone of your area by making your window frame a point of attraction.
A Beginner's Guide To Curtain Selection | Find The Ideal Coverings For Your Windows
Selecting the correct window curtains for any place involves a thoughtful balance of functionality and aesthetics of that area. So that you can make that place look adorable while adding comfort, as well. With the tips and tricks mentioned in this guide, you will surely end up investing in the perfect window treatments for your pace right according to the requirements, existing decor, and your personal preferences.
1. Decide On The Style
First things first, even before you go out to make a purchase of window curtains, is that you should decide on what type of style you want to create in your space. Also, it is quite essential to ask yourself what you want to prioritize, such as, privacy, aesthetics, or energy efficiency.
When you are sure of everything, it will be easy for you to make a selection of window curtains that can fulfill your area requirements along with your personal preferences. You will find so many curtain options in the market, and making a decision beforehand will make the entire selection process easy for you.
2. Take The Accurate Sizing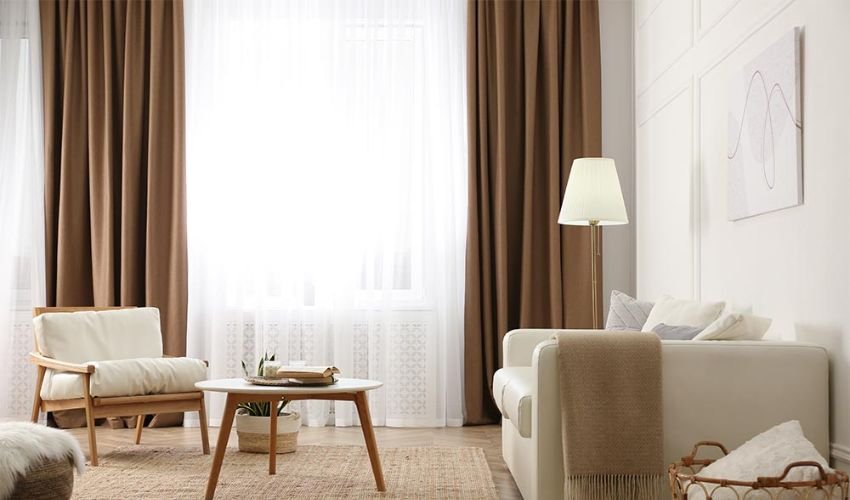 The next thing that demands plenty of consideration is the exact measurements of the window frame. This thing is quite crucial because it helps you in getting your hands on the curtains that perfectly fit your window frames. Thus, you should measure the width and height of your casement frames with no mistakes using a measuring tape.
Then, add a few inches to the width and height of the measurements that you have taken. In order to create a luxurious look, the curtains with extra length and width, covering your entire window frame and draping over the floor, will be the ideal option to opt for.
3. Explore Different Curtain Options
Go into the market and explore different types of window curtains to find out the best fit for your place according to your interior design. This will help you to know which options you can consider for your place. Some of the top window treatments that you can consider for your place include:
Sheer Curtains: These pretty lightweight curtains allow the natural light to enter the place while diffusing its glare. You can get an airy environment by installing these curtains, especially in summer.
Blackout Curtains: Want to create a cozy and comfortable environment? Nothing can be better than opting for blackout curtains. These curtains can effectively block out the sunlight and provide you with an area where you can take some rest peacefully.
Valances: Installation of valances is another modern way to beautify your window frames. They are short and mostly used to cover the upper portion of the window treatment, i.e. curtain rod. You can install them separately for a unique look, or you can get them combined with other coverings for a stylish look.
Cafe Curtains: These curtains cover only the lower portion of windows and provide you with enough privacy while allowing the light to enter from the top. These curtains are mostly installed in kitchen areas.
Panels: This is the most common type of window treatment which people love to opt for. They consist of one or two panels hanging from the curtain rod. They are available in a versatile variety, and you can combine them with other window treatments as well.
4. Consider The Fabric And Material
Next comes the consideration of fabric which hugely affects the overall appearance of any living space. A right curtain fabric can add ambience and texture to your place, elevating your interior decor. Things that you should consider while selecting the fabric for your window curtains include thickness, opacity, durability, and maintenance requirements.
The most common fabric that most homeowners love to purchase for their window curtains includes cotton, linen, silk, polyester, and velvet. Each one of them holds different properties and facilities in its own way.
5. Select the Perfect Color & Pattern
Color and pattern play an important role in the visual impact of your curtains. While choosing any shade, design, or pattern for your window treatments, you must keep the existing home decor and color scheme in your mind so that you can get your hands on the curtains that can perfectly match the interior style.
Lighter shades can make your room feel more spacious and airy, while darker shades can add warmth and depth to the space. Patterns range from bold to subtle, allowing you to express your personal taste in interior design and thus make windows a focal point of attention.
6. Decide On The Hanging Style
The hanging style of curtains can greatly influence the overall ornamentation of your living space. We have mentioned ahead some popular styles to hang curtains, which you can consider to enhance the decor of your places.
Rod Pocket: These curtains have a pocket along the top edge through which the curtain rod passes. With this style, you can create a classic look in your area.
Grommet Top: Grommet curtains feature metal rings at their top, through which you can install them on a decorative curtain rod easily and add a perfect touch of elegance to your interiors.
Tie Top: This style includes curtains with fabric on their top, which is used to tie them securely from the curtains rod. This style of curtains creates a charming and rustic look for your place.
Tab Top: Tab top curtains have the fabric sewn at the top of their edges through which you can slide the curtain rod in. This style is perfect if you want to create a relaxed and casual interior look.
Pleated Style: These curtains feature evenly spaced pleats which give out a really clean and elegant appearance, thus creating an inviting atmosphere.
7. Accessorize The Curtains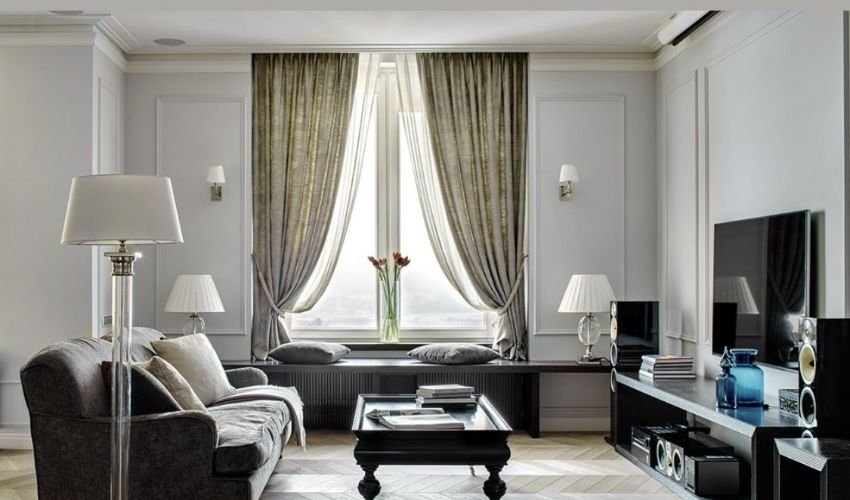 Lastly, do not forget to accessorize your curtains beautifully so that your place can look more enhanced. The most essential accessorizing elements include curtain rods, tiebacks, and finials, that complement your curtains and the entire furnishing of your space to complete the overall look.
You can opt for decorative window curtain rods if the curtains are way too simple. They will not only then hold the weight of your curtains but will also create a perfect balance. Tiebacks hold your curtains back to give out a luxurious look when you open them. You can get your hands on any of them as they are available in a wide range.
Bringing It All Together
Now, I hope that you have completely learned the art of window curtain selection because these are the basic steps one should know before buying window treatments. If you know these points and follow them, you will surely get your hands on the ideal window curtains which will complement your entire area. This way, you can perfectly enhance the overall appearance of your space and can invest your money in the best window curtains, adding convenience to your lifestyle.